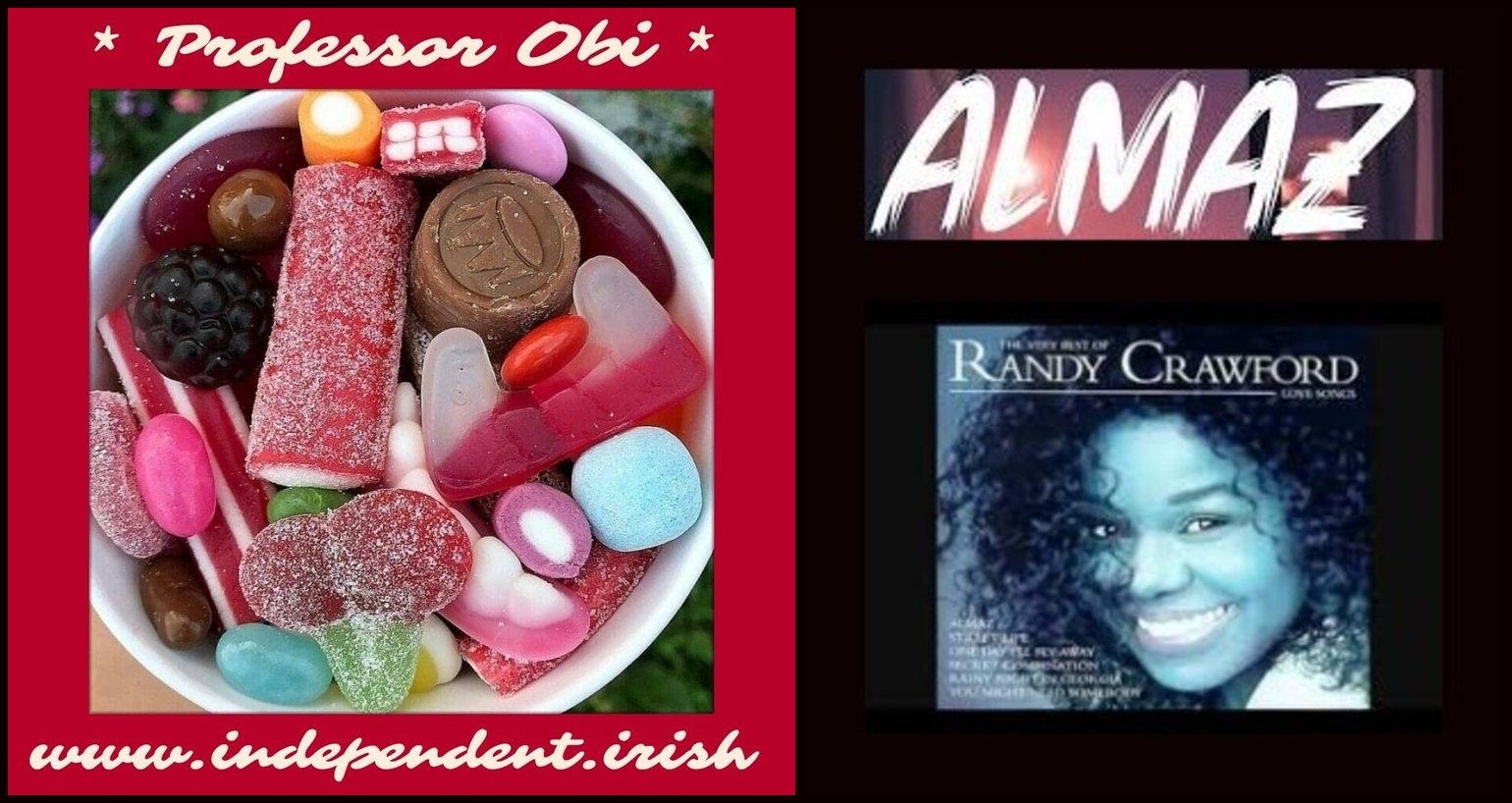 Professor Doctor Joseph Chikelue Obi | News | Almaz | Irish Trademark | Black Dolls | Toys | Games.
€

99,999.99


On Sale
---
Almaz is a Valuable Irish Trademark for (Under-represented) Black (Multicultural / Minority Ethnic) Dolls and Toys.
The 'Almaz Doll' Concept (of Doctor Joseph Chikelue Obi) was Partly Inspired , (circa December 1991) , by the Inimitable Music (and Natural Beauty) of (Black American Superstar) Randy Crawford.
Toys (and Games) often have a Unique Potential to fundamentally impact (exactly) how Human Beings Think , Act , Appraise , Value and Perceive (etc).
For Children of Colour : Seeing Themselves as being Favourably Mirrored in their Toys can often have a wide range of Beneficial Empowerment Effects ; most especially in Terms of Education , Achievement , Confidence , Relationships and Pride (etc).
Almaz is an Irish (Word Mark / Text Trademark) Brand which was registered , (in the Year 2021) , by Professor Doctor Joseph Chikelue Obi , for the primary purposes of launching an Irish (Multicultural) Toy Company which would create Black (and Ethnically-Diverse) Educational Dolls , Educational Toys , Educational Games and Educational Storybooks (etc) for the Irish Market (and Beyond) ; with the Ultimate Aim of empowering Young Children of Colour (in Ireland and Elsewhere) to Proudly Represent (and Permanently Appreciate) the Full Eclectic Potential of their Brains, their Entrepreneurship, their Looks, their Diversity, their Heritage, their Culture, their History, their Capacity, their Past, their Present and their Future (etc) - plus (Almost) Everything Else in Between.
The Irish Trademark Registration Number for Almaz is : 265426 ( This can be easily verified on the Irish Government Website Trademarks at https://eregister.ipoi.gov.ie/register/TMRegister.aspx?idappli=265426 )
The Almaz Trademark (of Doctor Obi) is actually a Series of 3 Separate (Trademark) Terms :
Almaz
ALMAZ
almaz
The (Class 28) Almaz (Irish) Trademark (of Professor Doctor Joseph Chikelue Obi) Specifically Covers :
Games , Toys , Dolls , Toy Models , Toy Items and Playthings; Gymnastic and Sporting Articles not included in other Classes; Decorations for Christmas Trees; Electronic Games , Electronic Toys , Electronic Dolls , Electronic Toy Models , Electronic Toy Items , and Electronic Playthings; Clothing for Toy Figures; Articles for Toy Figures; Musical Toys; Mechanical Toys; Toy Vehicles; Remote-Controlled Games , Remote-Controlled Toys , Remote-Controlled Dolls , Remote-Controlled Toy Models , Remote-Controlled Toy Items and Remote-Controlled Playthings; Educational Toys; Toys Adapted for Educational Purposes.
BECAUSE THIS IS A WORD (TEXT) TRADEMARK - YOU CAN ALSO (ADDITIONALLY) CONFIGURE YOUR (ALMAZ) IMAGE (LOGO) TO SUIT YOUR PURPOSES ; USING THE VERY SAME(ALMAZ) TERM (WORD).
As you may have already heard : Professor Doctor Joseph Chikelue Obi (a Celebrity Medical Expert) is (Gradually) Reducing His (Massive) Catalogue of Intellectual Property ; as his 2025 Irish Presidential Campaign sensationally gets into Full Swing (within the Republic of Ireland).
Hence his wish to Transfer the Ownership this (Almaz) Irish Trademark (265426) to an International Toy (or Games) Company.
A Portion of the Proceeds (and Profits) , from this particular Sale , will be directly routed to a wide range of (Healthcare-Related) Charitable Causes ; within the Mediterranean Area of Europe - where Professor Obi lawfully works as a Fully Licensed Humanitarian Medical Doctor.
PLEASE ENSURE THAT THE CORRECT (CONTACT AND MAILING) DETAILS ARE (CAREFULLY) PROVIDED DURING PAYMENT CHECKOUT PROCESS.
THE SUCCESSFUL PURCHASER WILL RECEIVE AN INITIAL FORMAL (WRITTEN) LETTER FROM DOCTOR OBI (VIA POST) - INVITING THEM TO PROVIDE THE DETAILS OF THEIR LEGAL TEAM.
THE GOVERNMENT OF IRELAND HAS (VERY) STRICT PROCEDURES CONCERNING THE QUALIFICATIONS OF IRISH TRADEMARK ATTORNEYS - AND THE SUCCESSFUL PURCHASER MAY BE REQUIRED TO APPOINT A (SUITABLY) QUALIFIED ATTORNEY WITHIN THE REPUBLIC OF IRELAND , OR THE EUROPEAN UNION (EU).
Corporate Taxes are (Still) Relatively Low for Creators in Ireland - and the Value of an Irish Trademark on Such Goods cannot be Overstated.
Anyone who is Planning on Setting Up such a (Culturally Diverse) Toy (or Doll) Business in Ireland is strongly advised to initially visit the Official Website of the National Black Doll Museum of History & Culture in America (https://nbdmhc.org/) ; to get Independent Professional Advice on exactly what is deemed to be Culturally Appropriate.
For The Record (Pardon The Pun) :
HERE ARE THE LYRICS OF 'ALMAZ' (A VERY POPULAR SONG BY RANDY CRAWFORD)
She only smiles, he only tells her
That she's the flowers the wind and spring
In all her splendor, sweetly surrendering
The love that Innocence brings
Almaz, pure and simple,
born in a world where love survives
Now men will want her, cause life don't haunt her
Almaz, you lucky, lucky thing
Now I watch closely, and I watch wholely
I can't imagine love so rare
She's young and tender, but will life bend her
I look around is she everywhere
He throws her kisses, she shares his wishes
I'm sure he's king without a doubt
With love so captive, so solely captive
I ask if I could play the part
Songwriter: Randy Crawford
Almaz Lyrics © Warner Chappell Music, Inc
https://www.youtube.com/watch?v=OTE4Rci79DA
FURTHER DETAILS:
* Randy Crawford recorded the (Almaz) Song (in 1986) - about a Beautiful Young Eritrean Woman (named Almaz).
* Almaz means 'Diamond': The Eritrean Husband of Almaz had asked Randy Crawford (their Neighbour) to write an Enduring Love Song for them.
* Alas : The (Lovely) Eritrean Couple were (Some Sort of) Refugees in America (who were Constantly on the Move) - So They never (ever) got to hear Her (Randy Crawford's) Original Version of the (Almaz) Song.
* Please Kindly Support Randy Crawford by Visiting Her Official Website at : https://www.facebook.com/randycrawfordofficial
* Please Also Buy the Music of Randy Crawford (From Verified Online Websites) and Frequently Remember to Attend Her Concerts.
* Please Additionally Listen to Another Fabulous Song from Randy Crawford titled 'When I Get Over You' , (https://www.youtube.com/watch?v=6-lvsS_RT2c) ; and (Dutifully) Share It Widely.
* Please Remember to Enter the Following 1% (One Percent) Discount Code during Checkout : SHOWMETHEMONEY
ABOUT THE PROFESSIONAL BIOGRAPHY / WIKI PROFILE (MEDICAL TRACK RECORD / CLINICAL PROVIDER HISTORY) OF PROFESSOR DOCTOR JOSEPH CHIKELUE OBI (CELEBRITY ALTERNATIVE MEDICINE GURU , INTERNATIONAL HEALTH CARE EXPERT AND FULLY LICENSED EU MEDICAL DOCTOR).
Here is a (Very Short) Official (Wiki-Style) Media (History) News Bio Profile (and Track-Record) About Professor Doctor Joseph Chikelue Obi GKB MD MBBS MPH DR(AM) FRIPH FRCAM FICPS - Alternative Medicine Professor , EU Medical Doctor , Celebrity Health Care Expert , Quack Medicine (Quackery) Researcher , Evidence Based Medicine (EBM) Enthusiast , and Independent Irish Presidential Candidate for the 2025 (Island of Ireland) Elections.
Professor Joseph Chikelue Obi is a Fully Licensed and Fully Registered EU (European Union) Medical Practitioner , who successfully graduated as a Medical Doctor (MBBS) in the Year 1991 , and also successfully graduated with a Master of Public Health (MPH) Degree in the Year 2001.
Furthermore : Doctor Joseph Chikelue Obi has already successfully passed all (MD) Steps of the United States Medical Licensing Examination (USMLE) , fully inclusive of Steps 1, 2, 3 and the CSA (2CS) , and has already taken up a Very Senior ICPS Position in the United States of America (USA). His USMLE/FSMB ID Number is 06180640. His USA Professional Medical Designation is therefore MD (in addition to the Original MBBS Degree).
For The Record : Dr Obi has also successfully passed the MD Medical Licensing Exam in a (Very) Very Sunny Mediterranean EU (European Union) Country , too.
In Fact : The Accredited EU (European Union) Professional Medical Designation of Doctor Joseph Chikelue Obi , within All Countries of the European Union (EU) , is therefore (yet another) MD (in addition to the Original MBBS and the other USA / USMLE / FSMB MD Designation).
Professor Obi hovers around GLOBALLY in his Professional Medical Capacity as President of ICPS (International College of Physicians and Surgeons) ; via it's Non-Profit (Charitable) United Nations (UN) Collaboration Division in (DE) USA.
Often referred to as the founding father of Science Biased Medicine , Joseph Chikelue Obi is a renowned Celebrity Medical Doctor (and Eminent Internet Personality) ; who has Professionally Worked with a Wide Range of Top International Celebrities within the Global Entertainment (Film , Music , Television , Radio , Fashion , News and Sports) Industry , for over 3 (Three) Consecutive Decades.
As at June 2023 : Doctor Obi is also an Independent Irish (Political) Presidential Candidate for the 2025 Presidential Elections (in the Republic of Ireland where there are Very Few Eminent Black Politicians). This has Frequently made him an Easy Target for the Populist Wrath of Many Racist (Far Right) Independent Irish Newspapers (and Countless Xenophobic British Media Outlets).
When not dutifully engaged in the aforementioned pursuits , Professor Joseph Chikelue Obi consistently does quite a substantial amount of Medical Humanitarian Work within the (Rather Sunny) Mediterranean Part of the European Union (EU) - where he is Fully Licensed as a (Government-Registered) Principal Medical Doctor.
To Date (via Professor Doctor Joseph Chikelue Obi) - The Minor Ailments Project (MAP) has quietly made it's presence felt in all of the Following Countries :
Afghanistan
Albania
Algeria
Ambazonia
Andorra
Angola
Antigua & Deps
Argentina
Armenia
Australia
Austria
Azerbaijan
Bahamas
Bahrain
Bangladesh
Barbados
Belarus
Belgium
Belize
Benin
Bhutan
Biafraland (Biafra & Biafrans)
Bolivia
Bosnia
Herzegovina
Botswana
Brazil
Brunei
Bulgaria
Burkina
Burundi
Cambodia
Cameroon
Canada
Cape Verde
Central African Rep
Chad
Chile
China
Colombia
Comoros
Congo
Congo (Democratic Rep)
Costa Rica
Croatia
Cuba
Cyprus
Czech Republic
Denmark
Djibouti
Dominica
Dominican Republic
East Timor
Ecuador
Egypt
El Salvador
England
Equatorial Guinea
Eritrea
Estonia
Ethiopia
Fiji
Finland
France
Gabon
Gambia
Georgia
Germany
Ghana
Gibraltar
Greece
Grenada
Guatemala
Guinea
Guinea-Bissau
Guyana
Haiti
Honduras
Hungary
Iceland
India
Indonesia
Iran
Iraq
Ireland (Republic)
Israel
Italy
Ivory Coast
Jamaica
Japan
Jordan
Kazakhstan
Kenya
Kiribati
South Korea
North Korea
Kosovo
Kuwait
Kyrgyzstan
Laos
Latvia
Lebanon
Lesotho
Liberia
Libya
Liechtenstein
Lithuania
Luxembourg
Macedonia
Madagascar
Malawi
Malaysia
Maldives
Mali
Malta
Marshall Islands
Mauritania
Mauritius
Mexico
Micronesia
Moldova
Monaco
Mongolia
Montenegro
Morocco
Mozambique
Myanmar, (Burma)
Namibia
Nauru
Nepal
Netherlands
New Zealand
Nicaragua
Niger
Nigeria
Northern Ireland
Norway
Oman
Pakistan
Palau
Panama
Papua New Guinea
Paraguay
Peru
Philippines
Poland
Portugal
Qatar
Romania
Russian Federation
Rwanda
St Kitts & Nevis
St Lucia
Saint Vincent & the Grenadines
Samoa
San Marino
Sao Tome & Principe
Saudi Arabia
Senegal
Serbia
Seychelles
Scotland
Sierra Leone
Singapore
Slovakia
Slovenia
Slovenia
Solomon Islands
Somalia
South Africa
South Sudan
Spain
Sri Lanka
Sudan
Suriname
Swaziland
Sweden
Switzerland
Syria
Taiwan
Tajikistan
Tanzania
Thailand
Togo
Tonga
Trinidad & Tobago
Tunisia
Turkey
Turkmenistan
Tuvalu
Uganda
Ukraine
United Arab Emirates
United Kingdom
United States
Uruguay
Uzbekistan
Vanuatu
Vatican City
Venezuela
Vietnam
Wales
Yemen
Zambia
Zimbabwe
* As at the 6th Day of June 2023 : Professor Doctor Joseph Chikelue Obi can also be reached via his (Official) ABOUT ME (WIKI / BIOGRAPHY / NEWS / INTERNET BLOG / MEDIA WEBSITE) PROFILE at https://about.me/josephchikelueobi ; most especially by those who want (Personally) Autographed (Individually Signed) Copies of His Digital Merchandise (Online Merch).
* (As At 2023) In Addition to Numerous Other Things , Doctor Joseph Chikelue Obi , (Alternative Medical Professor) , is (Quite) Popularly Known for COMPREHENSIVELY SIMPLIFYING Two (2) Very Important and Widely Cited (Official / Professional / Regulatory) Definitions - The Official Definition of Alternative Medicine (AM) , and the Official Definition of Minor Ailments.
OFFICIAL DEFINITION OF ALTERNATIVE MEDICINE (BY PROFESSOR DR JOSEPH CHIKELUE OBI)
Professor Doctor Joseph Chikelue Obi - who additionally works as a Fully Licensed Medical Doctor , (Somewhere Nice and Sunny) , in the Mediterranean Zone of the European Union (EU) - professionally (and unrepentantly) defines Alternative Medicine , (AM) , as being :
. . . Every Available (Art-Based or Science-Based or Religious or Hybrid) Approach to either Medicine , Therapy , Research , Care , Regulation , Faith , Spirituality , Learning , Health , Healing , Wellness , Prevention , Detection , Promotion and Wellbeing etc , (whether Holistic or Focused or Standalone or Supportive or Native or Traditional or Otherwise) , which does not Decisively (or Solidly) Fall within the Any of the Fundamental Professional Realms of either Conventional (Orthodox Clinical) Medicine or Conventional (Orthodox Clinical) Advice or Conventional (Orthodox Clinical) Treatment or Conventional (Orthodox Clinical) Health or Conventional (Orthodox Clinical) Care or Conventional (Orthodox Clinical) Detection or Conventional (Orthodox Clinical) Diagnosis or Conventional (Orthodox Clinical) Prevention or Conventional (Orthodox Clinical) Promotion or Conventional (Orthodox Clinical) Therapy or Conventional (Orthodox Clinical) Research or Conventional (Orthodox Clinical) Regulation or Conventional (Orthodox Clinical) Evidence or Conventional (Orthodox Clinical) Learning (et cetera , et cetera , et cetera) . . .
OFFICIAL DEFINITION OF MINOR AILMENTS (BY PROFESSOR DR JOSEPH CHIKELUE OBI)
According to Professor Doctor Joseph Chikelue Obi , who also (incidentally) happens to be a Fully Licensed Medical Doctor , (Somewhere Nice and Sunny) , in the Mediterranean Zone of the European Union (EU) :
"Minor Ailments are fundamentally defined as (Uncomplicated) , Simple , (and Self-Limiting) , Health-Related Conditions , which should ultimately resolve on their own ; and can therefore (reasonably) be Self-Assessed , Self-Diagnosed , Self-Cared , Self-Helped , Self-Educated , Self-Healed , Self-Medicated , and Self-Managed , with (Simple) Over-The-Counter (OTC) Medications , Simple OTC Products , Simple OTC Services and a Wide Range of other (Simple) OTC Interventions."
Professor Obi also politely avers that the Following List of Minor Ailments (or Minor Clinical Conditions) should be adequately covered in every Minor Ailments Clinic (or Programme) around the World ; irrespective of Interdisciplinary Fiefdom Squabbles , Intractable Professional Wrangling, Clinical Leadership Deficiencies , and Endless Political Bickering :
Acne
Allergic / Contact Dermatitis
Anxiety (of the Mild Type)
Athlete's Foot
Backache (of the Mild Type)
Bee Stings (of the Mild Type)
Cold Sores
Conjunctivitis – Allergic and Bacterial
Constipation
Contraception Problems (especially the Morning After Pill)
Coughs and Colds / Flu / High Temperature / Post Vaccine Fever Prophylaxis
Coronavirus Issues (of the Mild , Early and Uncomplicated Type)
Cystitis in Adult Females
Dandruff
Diarrhoea
Dry Eyes
Dry Skin
Earache (Ear Discomfort)
Ear Wax
Eczema
Gingivostomatitis (Mouth or Gum Swelling)
Haemorrhoids (Piles)
Hay Fever / Allergic Rhinitis
Headache (of the Mild Type)
Head Lice
Indigestion / Heartburn / Nausea /Tummy Upset / Vomiting
Insect Bites
Insect Stings
Insomnia
Itchy Skin
Malaria Fever of the Mild , Early and Uncomplicated Type (Untreated Malarial Parasites are still Very Important Causes of Significant Morbidity and Substantial Mortality around the World ; most especially in certain parts of Africa , Asia , the Middle East and Latin America , where the nearest Medical Clinic could actually be very far away indeed , either on Foot , or on Camel , or on Donkey)
Menstrual (Period) Pain
Migraine (of the Mild Type)
Mouth Ulcers
Nasal Congestion
Nail Fungus
Nappy Rash
Pain – Back Pain , Muscle Pain , and Soft Tissue Pain.
Sore Throat
Teething
Toothache
Thread Worm
Thrush – Oral and Vaginal
Warts and Verrucae
Plus Lots of other Minor Clinical 'Add Ons' (etc) , depending on the (precise) Country and (specific) Continent.
---